Given this time of uncertainty, there have been major shifts in consumer behaviour trends. As consumers adapt to the Covid-19 crisis, it's now more vital than ever to understand how this affects digital marketing as well as how to craft effective digital messages and experiences that convert.
That's not all. Brands all over the world are also showing their human side by sharing positive, responsible, and compassionate marketing communication in response to the Coronavirus pandemic. This empathic approach indirectly results in brand credibility that is sure to far outlive this pandemic.
However, with so much changing so fast, digital marketers may find it hard to know how and when to deliver effective reassuring and positive marketing messages while still growing their consumer base. Hence, we've come up with 5 ways brands can do smart & responsible marketing, especially during this Covid-19 situation.
Monitoring Changes in Customer Behaviour Sentiments
Brands can establish a strong trust through consumer-centric actions such as listening to what your target audience is feeling and doing, and why. Use social listening tools to monitor customer discussions about health concerns or information needs relevant to your brand. Another smart way is to track customer care emails, phone calls and service chats for trend changes in concerns or sentiment.
Utilise Compassion in Marketing to Spread Positivity
Global pandemics tend to trigger anxiety and stress. Therefore, brands that spread positivity not only stand out but also connect with customers. 
For example, NYX Cosmetics – a popular cosmetics brand has taken the Covid-19 crisis into their stride and inspired positivity as well as resilience through a compassionate marketing communication campaign. The brand produced an inspirational video featuring NYX's professional and local artists, motivating consumers to remain hopeful while reminding them that they aren't alone.  As a result, NYX Cosmetics succeeded in providing comfort to its customer base by showing genuine love and care for them.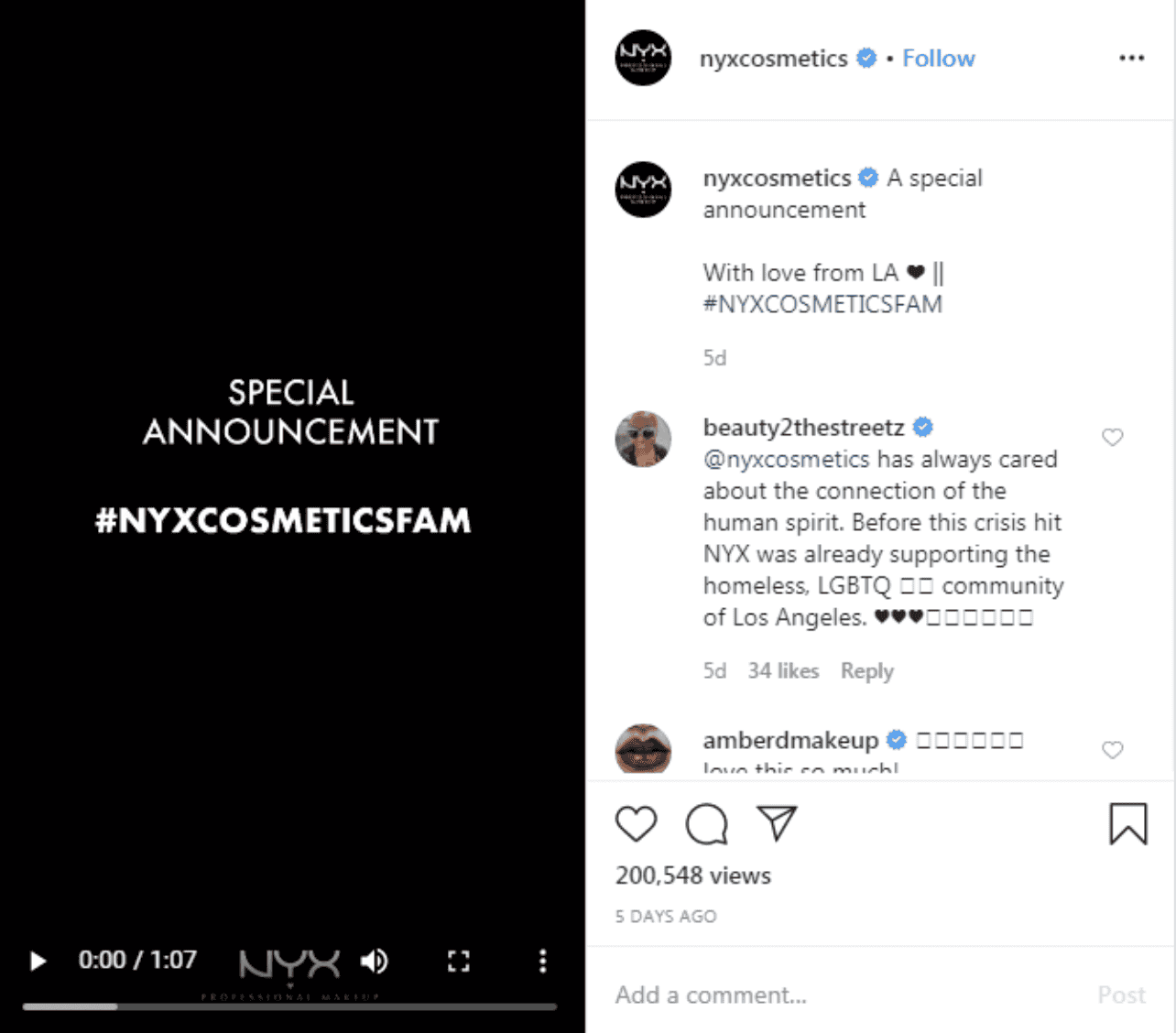 Embrace Variations in Content Language and Imagery
It's no question that visual communication is a powerful marketing aspect to impact and motivate your target audience. Along with copywriting, it's crucial to think about what type of message your brand is conveying. Some things to look at and consider tweaking include:
Alter your content language to exclude word terms referencing to close interaction or Covid-19 .

Visuals that portray people or crowds touching in close proximity are a big no-no.

Always have substitute visuals on standby in case you need to swap out to accommodate particular sensitive situations.
Think Contribution, not Conversion
Yes, we understand that using Covid-19 to drive your content and campaigns can be pretty tempting, but it's not advised since you might rub off the wrong way to your target audience. Instead of establishing a stronger trust with your consumers, it could backfire. Pepsi's Kendall Jenner Campaign and Dove's Body Wash Commercial are just some examples.
Keeping your customers constantly updated  about how the Covid-19 crisis is affecting your brand and the measures you're taking to circumvent it is a good idea. But do try to steer clear from spreading panic or share alarming information from unofficial sources.
Content That Focuses on Activities You Can Do at Home
Since the current situation requires all of us to stay put in our homes, you can be sure your consumers are looking for ways to occupy their time effectively. Therefore, brands can support their target audience by providing tips, hacks and suggestions for activities to try. 
A great example is Gov.sg's marketing communication strategy to spread positive energy and motivate individuals to practice social distancing and proper hygiene. The social media post illustrates a step-by-step guide on how to make your own face mask while encouraging everyone to have a mask ready at all times.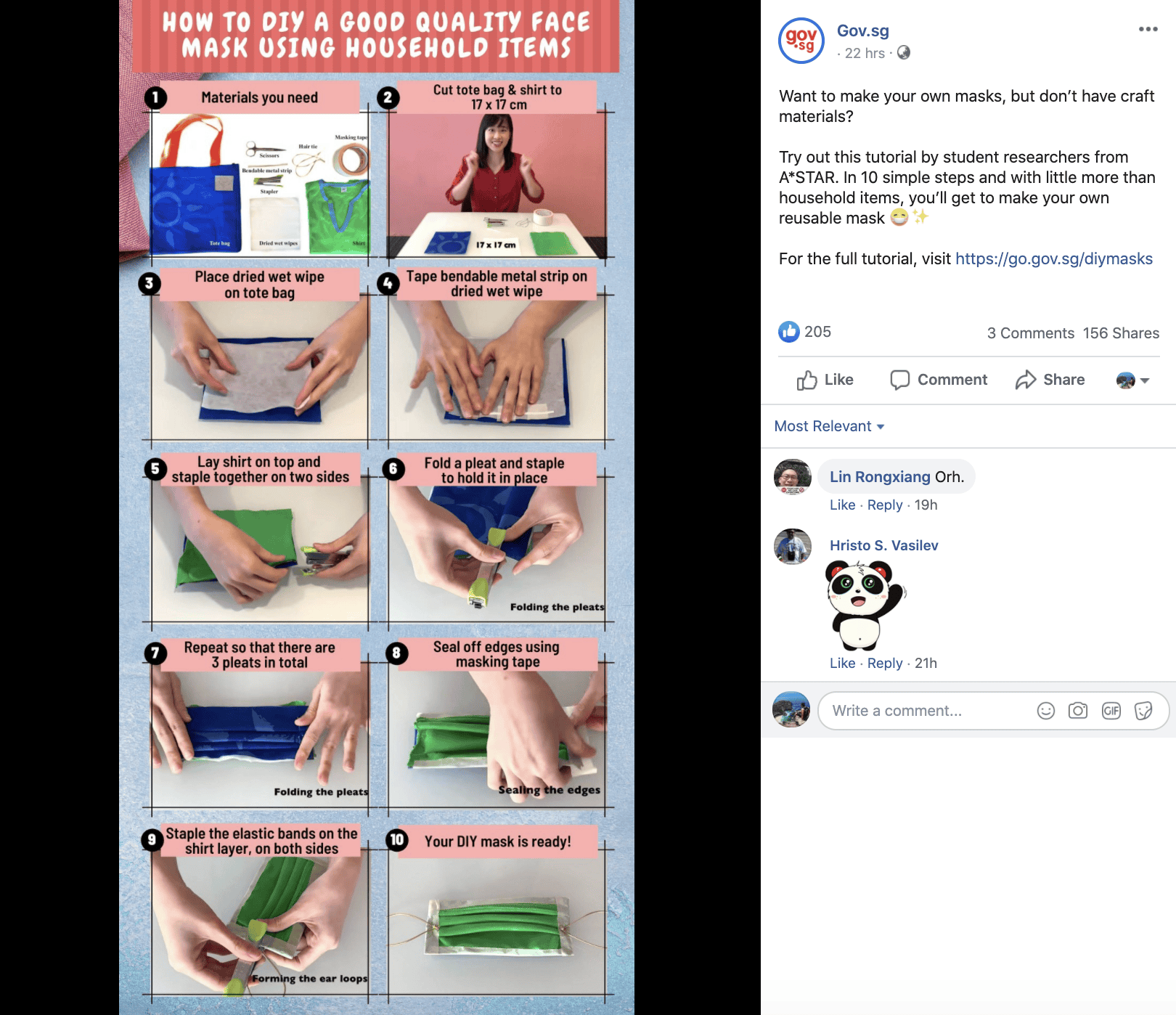 While the current situation calls for extra sensitivity, connecting with your customer base during these times can be challenging. It's imperative to understand the segment of your target audience that's appropriate to reach out to right now via your social media content and digital media campaigns for attention and engagement. All you have to do is to monitor your analytics, listen to changing consumer sentiment as well as evaluate content language and relevance.
Brands can also stand out through producing compassionate marketing communication during COVID-19 due to the abovementioned ways that are sure to help with smart and responsible marketing messages and strategies throughout the crisis.
If you still need help and support in growing your customer base while sharing quality and compassionate messages or even share impactful and meaningful campaigns, we're the brand guardians for you. Not only do we have a decade of experience helping brands grow in the age of digital transformation, but we're also a full-service agency that's suited to all your needs. Just drop us a message! Till then, remember to stay home and stay happy! 😉