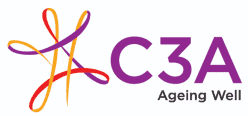 Overview
Council for Third Age (C3A), is an agency that promotes active ageing in Singapore through public education, outreach and partnerships. As an umbrella body in the active ageing landscape, with its focus on lifelong learning, senior volunteerism and positive ageing, C3A works with and through partners to help third ages age well.
The Challenge
C3A is an administrator of the National Silver Academy – Post-Secondary Education Institutions (PSEIs) and Community-Based Organisations (CBOs) offering a wide range of learning opportunities to seniors 50 years and above. To promote active learning among their target audience amidst the pandemic, C3A organises a virtual roadshow to promote lifelong learning, senior volunteerism and positive ageing for seniors aged 50 and above. As C3A is in the 4th rendition of their virtual roadshow, they sought assistance to develop fresh designs that appeal to their target audience.
Our Impact
Taking a shift from previous renditions, we proposed a photo-centric concept that uses images of active seniors. By portraying seniors as active learners in the everyday and integrating the concepts of learning and living, we brought vibrancy and a sense of enthusiasm. Together with the proposed the tagline of "Learners in Life, Learners for Life", it is strongly highlighted that everyone can be active learners, pick up new skills and participate in meaningful activities.
Using visual elements to showcase the different opportunities, together with a warm colour palette, the website conveys a sense of positivity and community. While the usage of photos and pastel gradients gives a contemporary look and socially-integrated feel.
CONCEPTUALISATION
WEBSITE DESIGN AND DEVELOPMENT
ILLUSTRATIONS