In response to the Covid-19 pandemic, many of our favourite brands have suspended their physical operations and instead turned to social media to share reassuring digital messages and online promotions.
While it's definitely a tricky time to be a brand on social media, you can get ahead by carving out more interactive responses that are also aligned with your digital marketing campaigns. Without further ado, here are 5 brands that managed to strike a positive chord with their customers through engaging and reactive content.
innisfree Singapore
As per the imposed Circuit Breaker guidelines, innisfree Singapore shut down their stores and shifted their promotional marketing and product spotlights towards social media. With the primary focus on conversions through their online stores on Shopee and Lazada, the brand adjusted membership rewards and vouchers as well as shared exclusive promo codes for their new product launches.
That's not all. innisfree Singapore also created a digital marketing campaign – #StayInWithinnisfree to give  reassurance and spread positivity. Through short and engaging videos, the brand's various beauty advisors shared their home beauty routines and well-wishes.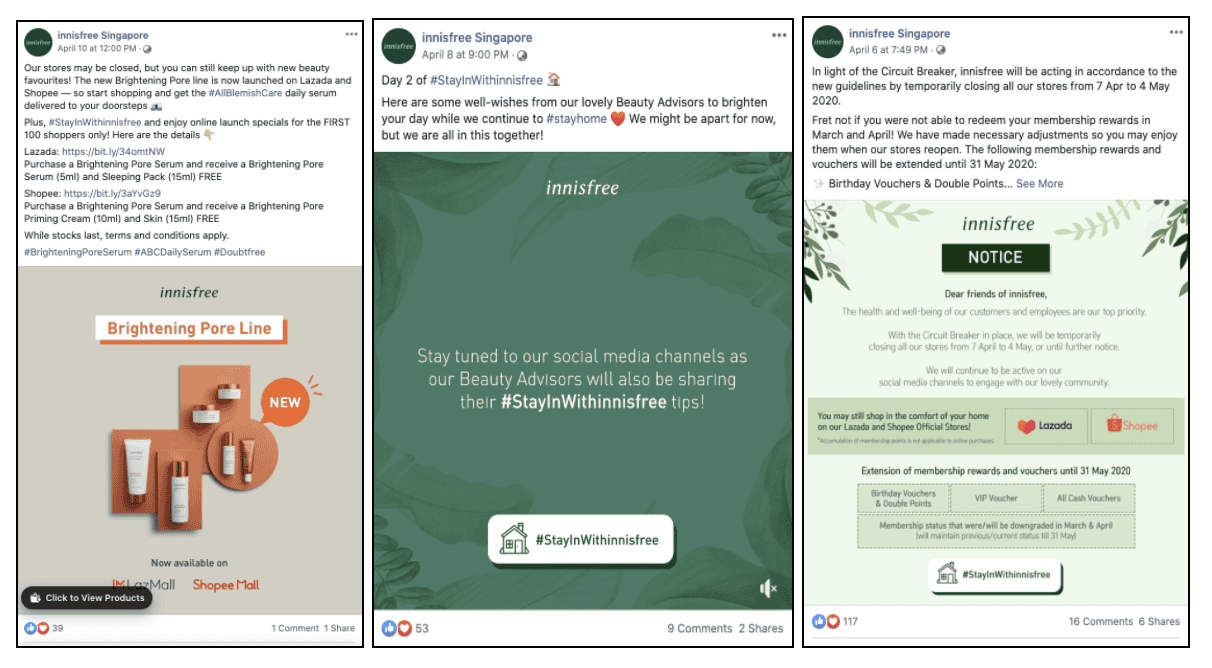 Credits : innisfree Singapore Facebook Page 
Circles.Life 
Veering away from traditional methods of reassuring customers such as through word-of-mouth and telephone calls, Circles.Life took a fresh spin  on the Covid-19 pandemic by sharing tasteful and engaging memes about the Circuit Breaker. The brand also assured new customers who registered with a contactless delivery service that offers free and same-day delivery. 
Moreover, as part of their compassionate marketing campaign – #CircleBackHome, a Work From Home (WFH) package was created. Customers would easily manage their mobile data with convenient add-ons and boosts that they can turn on and off anytime via the Circles.Life app. As part of Corporate social responsibility (CSR) efforts, the brand also consistently shared their gratitude towards frontline heroes and even crafted a Frontliners Care Package for new and existing customers.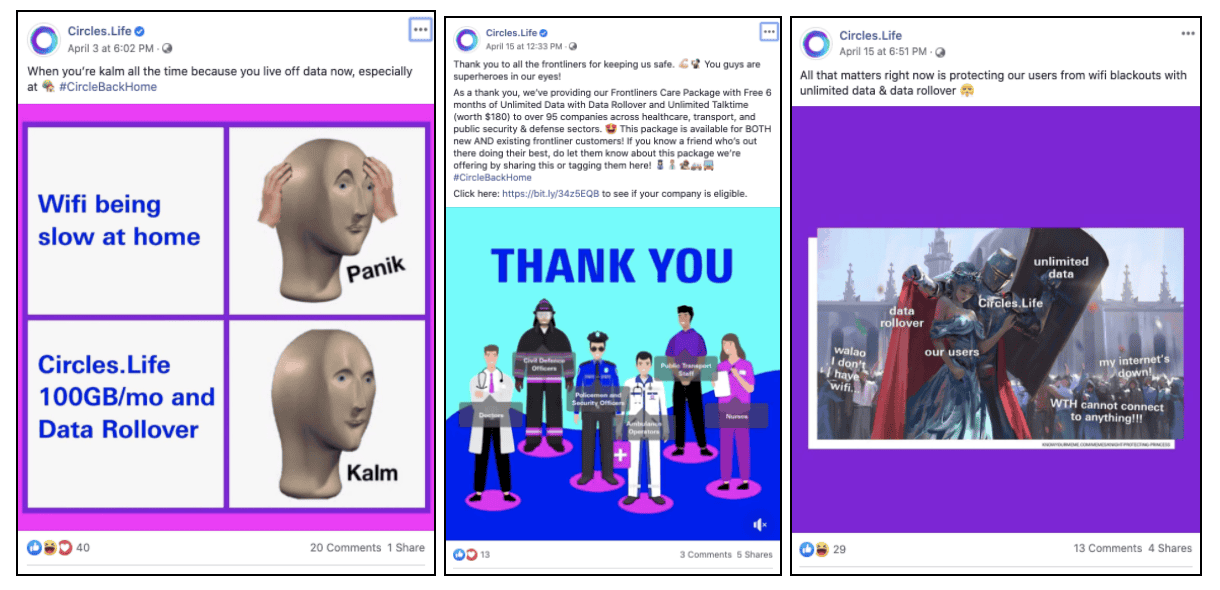 Credits : Circles.Life Facebook Page 
PlayStation Asia
To illustrate gratefulness towards their customers that are practicing social distancing as well as staying home to help contain the spread of Covid-19, PlayStation took to social media to announce the launch of its Play At Home initiative. To satisfy the current customer base as well as attract new players to join, the brand provided 2 free games – Journey and Uncharted: The Nathan Drake Collection to help keep the PlayStation community entertained at home.
PlayStation also established a fund to help smaller independent game studios that are experiencing financial difficulties so that they can still continue building great experiences passionately for the gaming community.
Moreover, the brand took the UGC route by crafting a digital marketing campaign – #PSSetUpSat to bring the PlayStation community together. Players were encouraged to send their setups by using the brand hashtag and every Saturday, the brand will choose the best setups to showcase on its social media page.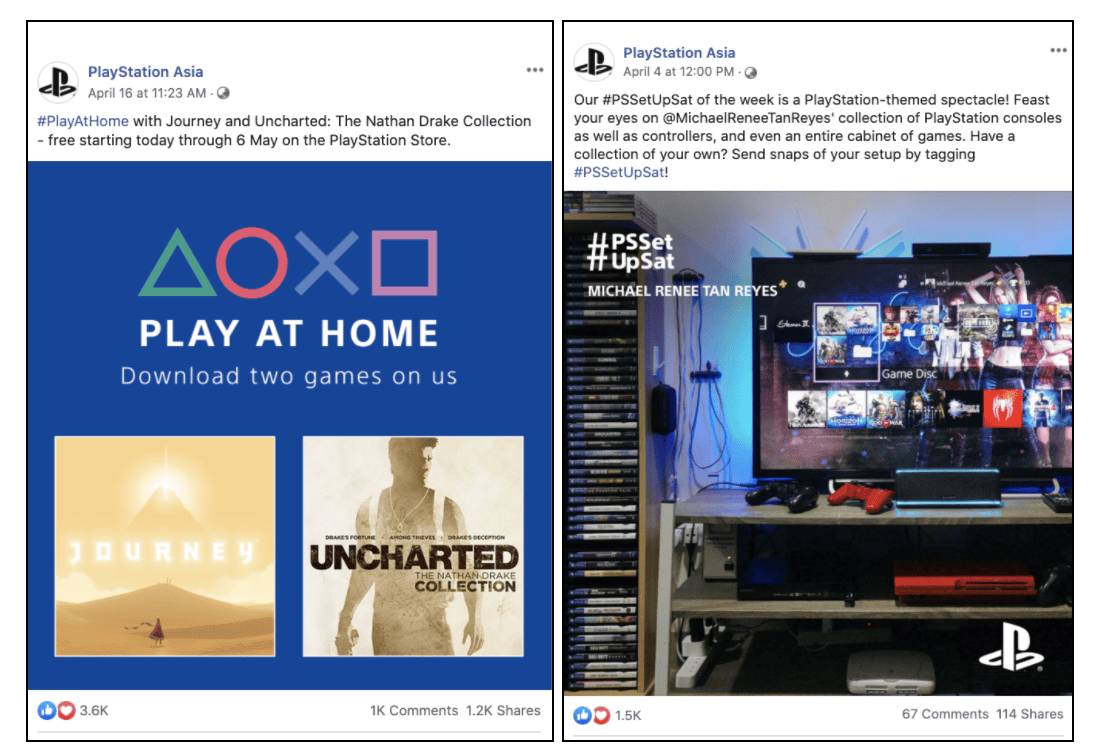 Credits : PlayStation Facebook Page 
StarHub
To encourage staying at home, StarHub took entertainment initiatives to the level. From back- to-back film specials to enjoying shows on exclusive channels for free, the brand promoted customer solidarity and satisfaction. Best part? Starhub doubled its social media platforms as a channel watching guide with detailed schedules and distinct genre segregations.
StarHub also consistently posted FAQ videos reassuring its customers positively during the Circuit Breaker period. Through the various questions answered about StarHub's support during the circuit breaker period, the brand also ensured brand engagement.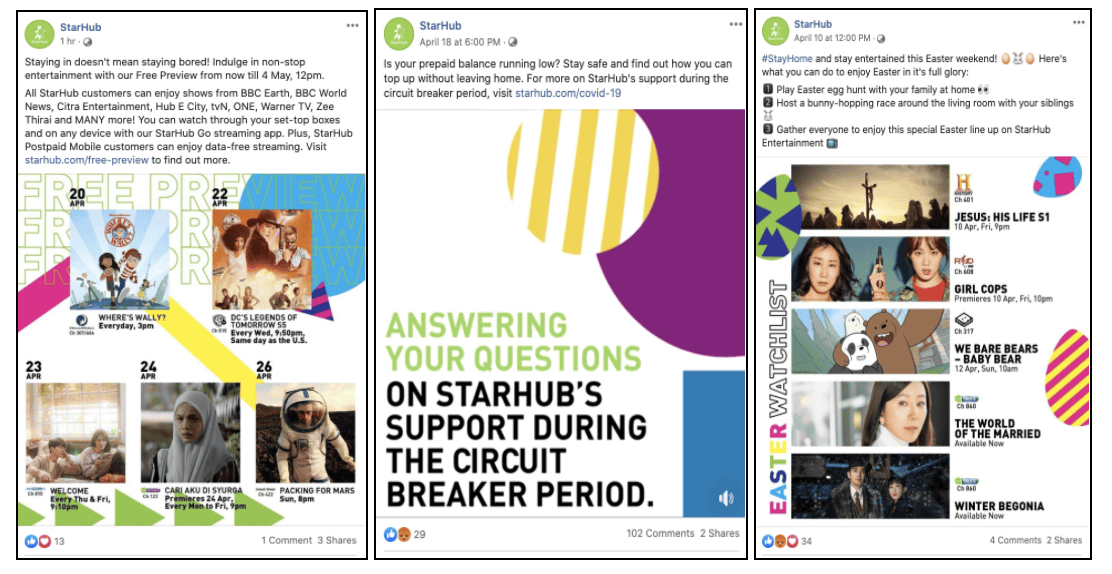 Credits : StarHub Facebook Page 
KFC
We know that staying at home for days on end can get really boring so KFC took to its social media to share delicious recipes that could be done with the least amount of ingredients conveniently without taking up too much time. The brand also established a compassionate marketing campaign – #KFCCares that encourage volunteers and employees to pack and distribute meals to the various Covid-19 affected foreign worker dormitories to help them get back on their feet during these trying and uncertain times.
KFC also promoted its official App with online store exclusives and promo codes that not only generated hype within the community but helped to direct their customers to continue purchasing onlineAdditionally, to reassure KFC's customers on their cleanliness measures, they also shared short videos  showing their hygienic handling of food products as per the official food preparation guidelines.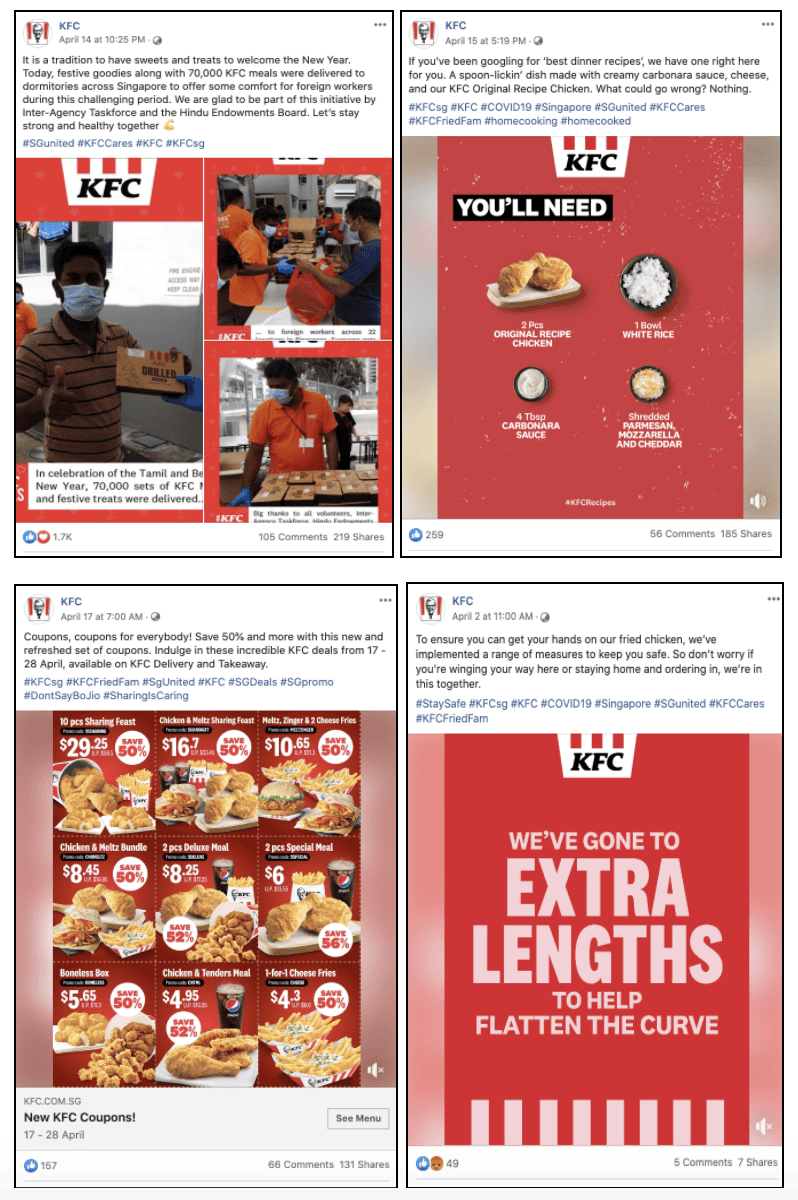 Credits : KFC Facebook Page 
Every brand needs marketing and a successful social media campaign is indispensable to its growth, sales and brand recognition, especially in these challenging times.
If you're planning to make a solid and lasting impression with your brand, why not have a chat with our brand guardians  so that we can craft out a tailored solution just for you!